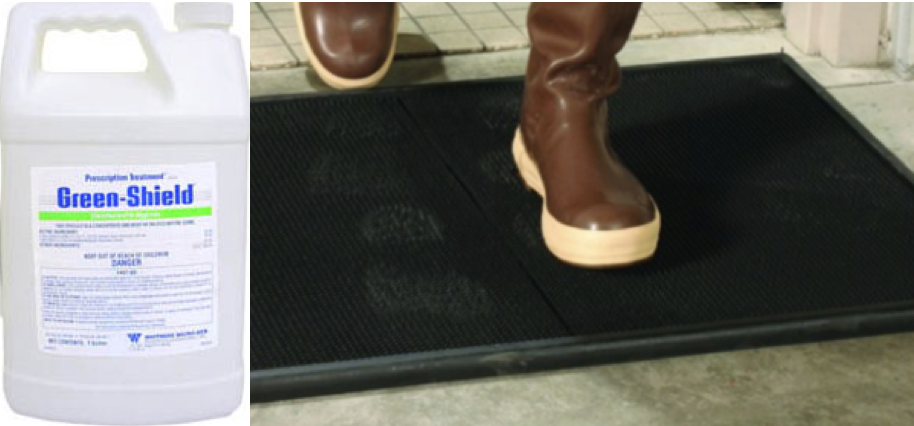 When it comes to your IPM program, are you employing all the stops? Are you adequately considering these components of your IPM program?
1)Removing debris (cultural control)- fungal pathogens (i.e. botrytis).
2)Properly sanitizing surfaces, pots, soil, and tools.
3)Stopping entry and vectoring at the door!
Proper sanitation is imperative for maintaining a good integrated pest and disease management program and stopping pests "at the door" should be the first line of defense. Within the larger industry, there are an array of needs in the sanitation department. Without being able to touch on them all, let's talk about your feet! As we approach fall weather, pests are certainly looking to hitch a ride into indoor environments and greenhouses. That said, vectoring pests in and out of various facilities, greenhouses, or rooms, is a potential problem all season long. How are your growers and employees moving through the facility? Avoid allowing growers to work in contaminated areas and then move to propagation later in the day. Consider supplying a change of clothes and even crocs or boots for employees. 
We work to stay abreast of all the updates and changes in the industry and in biocontrol and share that information with all of you. That said, some trusted principles and products have not changed for decades and remain trusted industry standards.
To assist with this continued concern, we made have ordered in products to make it easy for our customers. Whether you are moving from stock to finishing areas, or from outdoors to indoors, having a sanitation mat is critical for vectoring reduction. For fall, we are combining the long-standing industry sanitation product, Green Shield, with the sanitation mats as a package deal. We don't want you to call us in crisis!
For $147 you can receive 1 gallon of Green Shield with our favorite type of sanitation mat.